New things coming to SBI! If you follow me on Instagram and watch my stories, you know my husband surprised me with something super special to help me with my business and blog... I came home the other day to a new computer on my desk. I was using his old lap top before that is about to blow up (lol) and I find desk tops so much easier and more convenient for me. I've been wanting one for a while but could never get myself to purchase one. I guess he finally had enough of me complaining about the laptop so he bought me a new desk top. I don't deserve him... He's too good to me...
With all that said, I'm going to be blogging more and that includes Friday Features! I know a lot of other bloggers do similar things and I thought it would be fun to do it to share what inspires me and what I'm loving at the moment. My very first one is featuring wallpaper. One of my favorite things in life which is hilarious to me because so many people hate wallpaper... (click the pictures for sources)
I love how colorful both of the first two are. I love the white background, to me that makes it more flexible and would look good anywhere in any room. Not only did they put the wall paper on the wall in the first picture, but they also put some on the crib... Love that idea to update something you already have that doesn't exactly 'go' anymore. I'm especially loving the second picture how the whole room is white and you have the subtle pops of color in the wallpaper. IN LOVE!
This third picture is actually what inspired my master bedroom makeover. You can see my bedroom
HERE
. I know, a laundry room inspired my bedroom makeover? Just the wall paper did. I wanted moody and dark and feminine and originally wanted to purchase this wallpaper but saw the price tag and decided against it. But it still inspired a lot of my room makeover.
These next two are fun ways to add wall paper to things you normally wouldn't. I love the use of it on the stairs and door in the above picture and I especially love how the switched the wallpaper and brick in the bottom picture. Super eclectic and fun!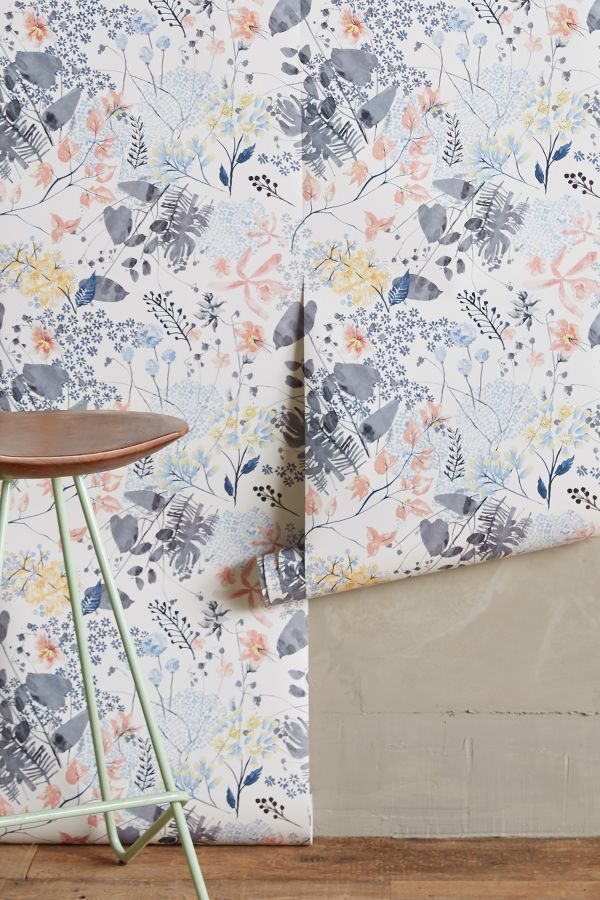 Anthropology.com
And I am completely in LOVE with this one. I've dreamed of putting this up somewhere in our home... It's just gorgeous. One day you'll see it in my home...
And these last three pictures are of my home where I have tried my hand at wallpaper. I love that you don't have to spend a lot on it to make a big statement. Also love that you can buy peel and stick wallpaper that can be taken down way easy... The top picture is of my living room and we used the stick on brick wallpaper from Target. I did a full review of it and told how I liked it
HERE
. The bottom picture is of my bathroom. We added bead board wallpaper on the bottom half of this wall in our bathroom.
We also added
THIS bead board wallpaper
to our kitchen cabinets to brighten them up and give some more texture. It was super easy and you can see how we did it
HERE
.
Welp, that's it for my first Friday Feature! You can click on the pictures for the sources. What do you think of these? Do you want to see more? Do you love wallpaper right now as much as I do?? Let me know on Instagram and Facebook if you like this and want to see this every Friday. I'm wanting to incorporate posts that give you an idea of what inspires me on a daily basis and not just share my home. I hope you have a wonderful weekend! It's supposed to be almost 70 degrees here so I'm going to enjoy it. Have a good one, friends!